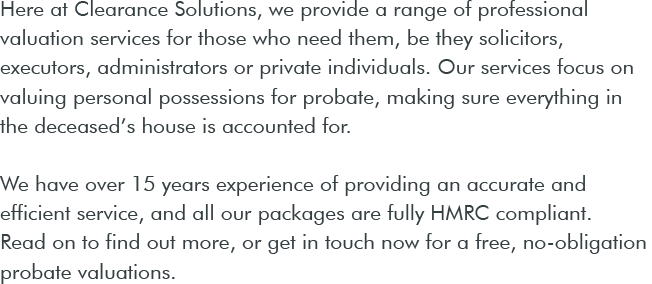 Call now to see how we can help
0207 706 7554
What Does Probate Valuation Mean?
Coping with the loss of a family member can be really unbearable. For some people, it's very hard to put up with this tragedy. However, life still goes on and you will have to deal not just with the loss of a loved one, but with other things as well. When a person dies, it's necessary to find out if that person left a will. If there is a will, the property that belonged to the deceased person is distributed according to his/her wishes.
But if there is no will, the process of distributing property may take more time. That is why it is crucial to apply for probate valuation in Woolwich after a person's death. Keep in mind that probate is not needed if you had jointly owned the property. In this case, the property will pass to you automatically.
In order to get started with the probate process in Woolwich or other areas such as Acton or Hillingdon, professional valuation has to be done for the estate of the person, who passed away. Probate valuations in Woolwich need to be done for inheritance tax purposes. Estate is everything that belonged to the deceased person. It includes property, vehicles, savings, antiques, jewellery, fine art, furniture, valuable collections and other types of chattels.
The properties in Woolwich and household items have to be professionally valued. You can take advantage of valuation services provided by RICS qualified chartered surveyors if you need to get the most accurate valuation. After doing its work, an executor provides its clients with detailed valuation reports.
Why Probate Property Valuation is Crucial
Inheritance tax is known to be a tax on the deceased person's estate. So, when you inherit property, you are most likely to pay the tax. However, you do not have to pay inheritance tax if the total value of the estate is under £325,000 according to the inheritance tax act 1984.
It's also important to note that a property can be also a subject to the capital gains tax. That's why getting the accurate value of the property in London is extremely important. Plus, the report has to be accepted by HMRC.
You should be really careful because high valuation will result in high inheritance tax. A too low valuation will be very suspicious. In this case, HMRC will calculate the market value of the deceased person's estate once again. If they find that valuation was kept low on purpose, you will be in trouble. You can even be charged with fraud even if probate valuation in Woolwich was done by mistake. That's why you should seek professional help to prevent this type of situation from taking place.
How Do Valuers Work
Contact our probate services company to get the help of a professional and highly trained valuer in Woolwich and neighbouring areas like Dartford and others. The valuer will visit your property and send you the most accurate probate valuation report within 72 hours after a visit.
If you are inheriting someone's property, you must be prepared that the probate in the United Kingdom takes between 9 and 12 months.  Such companies offer standard services probate package as well as specialist package in Woolwich. Standard package will suit the vast majority of customers. You may consider specialist package if you have some expensive collections that need to be valued.