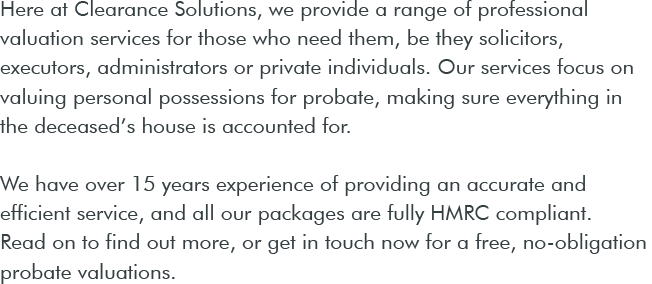 Call now to see how we can help
0207 706 7554
What is a Probate Property Valuation and Why It's Needed?
It's always hard to overcome the loss of a loved one. Coping with the death of a family member becomes even harder because there are some important things to be addressed without delay. Probate valuation in Acton is one of those things you need to think of when your relative dies. This type of valuation is required for the probate process. The valuation for probate is calculating the value of a deceased person's estate.
Professional valuation needs to be done for inheritance tax purposes. The valuation is done by an RICS qualified valuer. You need to apply for a probate valuation in Acton and other areas such as Uxbridge or Teddington in order to find out whether you will have to pay the inheritance tax according to the inheritance tax act 1984.
It's incredibly important to get the accurate valuation in Acton and estimate the total market value of deceased person's properties, chattels, vehicles, household items as well as financial assets like bank deposits, stocks, bonds, etc.
Take advantage of professional valuation services in Acton to get the work done in the best possible way. The chartered surveyors will determine the real market value of all the items inside the house such as antiques, fine art, jewellery, furniture, etc. You can be sure that the value estimated by an executor will reflect the realistic market price of the items.
Why Do You Need to Get an Accurate Valuation?
In order to apply for probate valuation in areas like Acton and Ealing, you need to provide HMRC with detailed information about the deceased person's house and its contents. That is why it is so important to determine the real value of all the assets. Keep in mind that you will have to pay the inheritance tax if the total property value exceeds £325,000. Also, your property can be a subject to capital gains tax.
The amount of the inheritance tax depends on the property value. If the value is high, the tax will be high as well. But if the property value is too low, it may cause suspicion. In this case, you run the risk of being charged with fraud. That is the main reason why it is so important to get accurate property valuations for probate.
How to Get the Valuation for Probate?
First, you need to find a reliable company that offers probate valuations and other types of probate services in Acton. An experienced valuer will visit your property in Acton and examine a house as well as house contents carefully. Lastly, a valuer will make all the necessary calculations and send you a report. Services probate companies provide clients with valuation reports within 72 hours after his visit.  In most cases, people get standard probate valuations in Acton. Specialist packages are worth considering when a need to value expensive items arises.
How Can You Benefit from a Specialist Package?
If you think that some items in your house are very expensive, then it would be better to make use of a specialist package. Do you need to estimate the value of jewellery or art collection? An expert in this particular field will readily help you. Plus, you have an opportunity to determine the value of collections such as:
Stamps
Rare books
Coins
Medals
Cars
Watches
In fact, it doesn't matter which type of estate you need to value. Highly experienced chartered surveyors in Acton will get your items valued quickly and professionally.