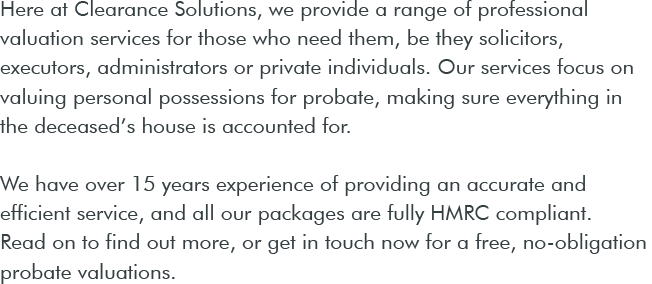 Call now to see how we can help
0207 706 7554
Applying for probate in Putney
When applying for probate, you value properties that belong to someone who has passed away. In Putney, people have so many questions about the probate valuation of the property since they're new to the process.
Putney residents want to know why probate valuation is needed. And now, you'll have to know everything you need to know about it.
What is Probate Valuation?
A probate valuation is a process of valuing the possession of a deceased person and inheriting those assets. After the person's death, the executor of the property is entitled to obtaining the prized possessions (chattels, jewellery, vehicles, fine art, furniture, antiques, household items, and others).
To apply for probate, you need to value these possessions. The valuation must be realistic and based on the market value of each item. There's a process that valuation follows, and you have to consider it before going ahead.
The Probate Process in Putney
What is this probate process? You mustn't leave any of these steps undone so that the probate valuation can be successful:
First, you have to contact the banks, utility providers, and other companies that you're about to inherit the person's property.
Next, consult Chartered surveyors (RICS qualified and registered) to estimate the value of assets.
After the probate is complete, HM Revenue and Customs (HMRC) receive the valuation reports.
Finally, you'll receive information about the inheritance tax that you need to pay.
This is a legal process, and it demands that the values of assets are calculated for the inheritance tax liability. You should get an accurate valuation report so that you won't have to pay a tax that's too high or too low. If you pay a higher amount, you'll lose money. And if you pay a lower amount, you may be suspected of fraud.
Valuation Services in Putney
To obtain a valuation for probate in Putney, you need to have experienced professionals who are familiar with the inheritance tax act 1984. When you do, your capital gains tax will also be accurately determined.
At Clearance Solutions, we're experts at valuing several assets for probates. We've been in the probate valuation business for over 15 years.
We offer a professional valuation of your loved one's assets in Battersea, Wimbledon, Putney and across London. Being familiar with all the requirements involved, we'll send a report to you within 3 days after your visit. With our probate services, expect a precise value of the assets.
We also specialize in house clearance services for your potential assets. Contact us for consultation or advice, and our representative will communicate with you.