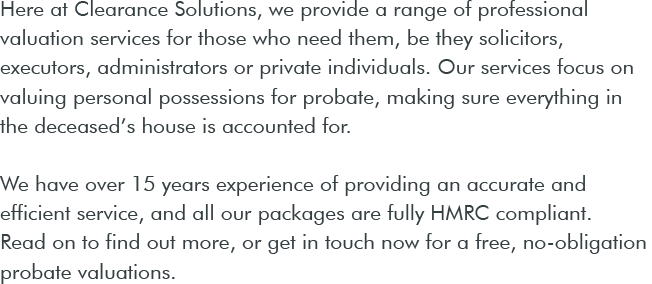 Call now to see how we can help
0207 706 7554
We Assist you with Probate Valuation
People in Battersea use probate valuation services after the death of a relative. That way, they're able to inherit the deceased's property. These include antiques, furniture, fine art, chattels, jewellery, and even vehicles (like cars, buses, and other kinds). The items were valuable to the person when alive, and now, relatives will have to take over the ownership.
To apply for probate valuation, you need to acquire the valuation of possessions for probate. As an executor, you should know how much the dead person's assets are worth. This valuation process is needed based on the HMRC inheritance tax act 1984.
We offer probate services and have experts that can assist with probate valuation in Battersea and its surrounding areas like Ealing, Bromley and Chelsea. Our specialists will first value every household item clearly and register them. After which we'll send a report.
The Process of Probate
What is required to obtain probate valuations of a deceased person's property? To know the probate process, here are the major steps to take:
Contact organisations like banks and utility companies, informing them about your intention to inherit the person's property.
After that, the market value of the items is assessed by the Chartered Surveyors (RICS qualified and certified).
As soon as the probate is finished, the reports are taken to the HM Revenue and Customs (HMRC).
The HMRC will give you details on how much you should pay as inheritance tax.
This process is based on inheritance tax purposes. If the estate is sold for more than the estimated valuation, you're legally responsible for the capital gains tax. You need to get the correct report so that the accurate valuation will be estimated. If the value is too low or too high, you may be suspected of fraud, and that's why you need our probate services. Our professional valuation allows the process to become smooth for you.
Valuation Services in Battersea
Get in touch with us for your valuation needs! When you apply for probate valuation in Battersea, you'll know how to deal with the person's assets.
At Clearance Solutions, we're experts at valuing various assets for probates. Our probate valuation services are as old as 15 years in the industry. Whenever you have questions about probate valuation, we're here to make it clear to you.
After consulting us, you get your valuation reports within 3 days! Contact us now for the cost.