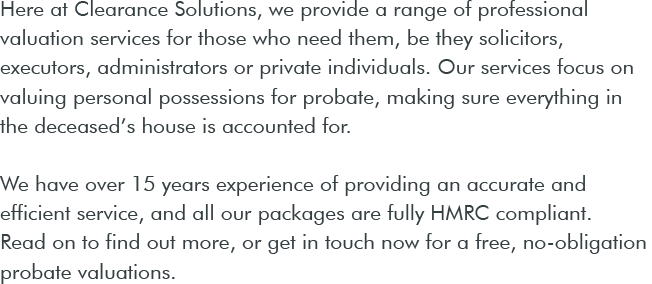 Call now to see how we can help
0207 706 7554
What is Probate Valuation and When It Has to be Done?
A probate valuation in Greenwich is the legal process that is usually required after a person's death. During this process, the value of the deceased person's assets is estimated. Probate valuations are extremely important and should not be postponed. In fact, the probate process in Greenwich and neighbouring areas like Woolwich or Bromley can be complicated and may even have unexpected difficulties.
That is the main reason why you should take advantage of valuation services to get the job done. The RICS qualified expert will help you calculate the market value of the house, household items, chattels and other types of assets that belonged to the person who has died. The value of savings, bank accounts, stocks, shares as well as antiques, fine art, jewellery, furniture, vehicles and even gifts has to be estimated as well.
Calculating the value of the house and its contents is one of the most important things you should do after your relative dies. You should hire chartered surveyors who have a long history of doing probate valuations in Greenwich and helping people with valuing assets for inheritance tax purposes.
Of course, losing a family member is extremely tough. However, professionals understand this and do their best to make the process of probate valuation in Hammersmith and such areas as Chiswick as simple as possible. But most importantly, they do a professional valuation for customers.
Valuing Assets for HMRC Inheritance Tax Purposes
According to inheritance tax act 1984, an heir has to pay inheritance tax if the total value of the deceased person's property exceeds £325,000. That's why it's crucial for people, who inherit someone's property, to get accurate probate valuation reports. Such a report will help you find out whether you will have to pay the inheritance tax as well as capital gains tax or not. If the value of the property is very high, the tax will be high respectively.
So, you will have to pay more than you need. However, it can be even worse if the value is too low. You can be charged with fraud. In order to avoid this unpleasant situation from happening, you need to get an accurate valuation.
How the Process of Valuing Property for Probate Looks Like
Home valuation for probate purposes in Greenwich can be a long and intricate process. But if you choose to deal with a reliable valuation probate services company, things will go easy. A highly trained and qualified executor will visit the property in Greenwich in order to calculate the accurate value of its contents. After that, the expert will provide you with a detailed probate report. Residents of Greenwich usually get the report within 72 hours after the valuer's visit.
Valuation for Probate Service Packages
In most cases, residents of Greenwich use standard valuation services probate package. But if you have some valuable collections, you can consider our specialist package. Do you have expensive pieces of jewellery such as necklaces, rings and earrings? If so, you should ask a professional in this particular field to help you estimate the value of a collection.