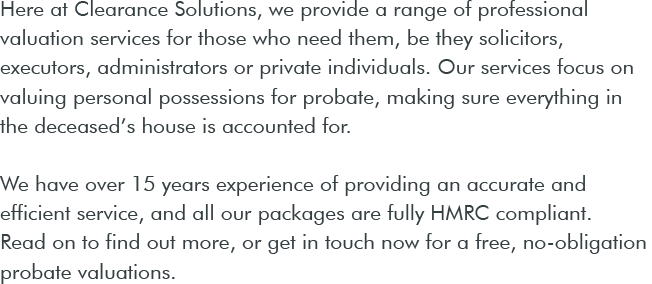 Call now to see how we can help
0207 706 7554
We Can Assist You With Probate Valuations
People consult valuation services whenever they intend to acquire personal possessions of the deceased for probate. Probate valuation in Chiswick is required for HMRC inheritance tax purposes after a relative's death. A team of experts will provide accurate valuations for probate. They help with probate valuations in London, Chiswick, and surrounding areas.
Expert evaluators will assess your household items, thereby recording their market value. The inheritance tax system needs this value for your probate process to be positive. Probate service offers you the privilege of owning the deceased's property.
We Assess All Items
There is no limitation to the type of item that expert evaluators can access. From jewellery to furniture, professionals can value all assets. Other assets include antiques, fine art, chattels, vehicles, and others. Priceless items like precious stones and gems are also not excluded.
Probate Valuation in Chiswick
The probate process in Chiswick follows three stages, and they are important in determining your rights to inherit the property. They are:
The valuation and assessment of the properties.
Creation of valuation reports that contain details about the items in an estate.
Making a register for the house contents after which HMRC sends you the tax amount that you'll pay.
The law that insists on the accuracy of valuation is the inheritance tax act 1984. Since it's a legal policy, it's important that you follow it duly. If the value isn't accurate, you may pay a lower or higher amount—and neither of these will benefit you. Paying higher will cause financial inconvenience for you. Likewise, paying a lower amount will urge the authorities to suspect you for deception.
How does our Valuation in Chiswick Work?
Contact Clearance Solutions when you need a professional valuation. When you book an appointment, you're involving RICs qualified chartered surveyors who know how to handle your probate needs.
Our services provide accurate valuation which gets complete within a convenient time. After 3 days of your visit, your valuation report will be ready.
Whenever you begin to wonder how long probate takes, remember that it depends on some factors. For one reason or the other, it may take 9-12 months.
As soon as your probate is granted, you'll have total access to the properties. For this reason, we have property clearance services whenever you need to clear your new estate.
How much does Valuation Cost in Chiswick?
According to the work size, we determine the valuation service cost. Different individuals have different types of properties, so there's no fixed cost. Contact us to get an estimate.