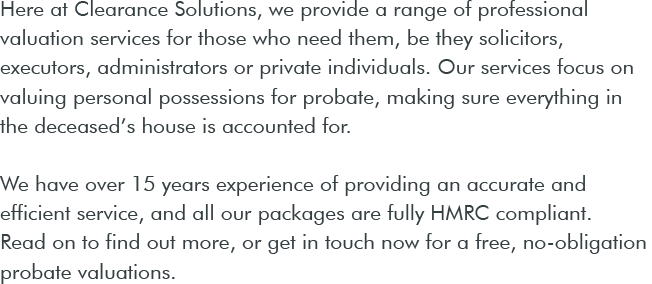 Call now to see how we can help
0207 706 7554
We Can Assist You with Probate Valuations
People use probate valuation services when they need to get their personal possessions valued for probate in Bromley. This type of valuation is required for HMRC inheritance tax purposes.
We provide highly efficient valuations for probate. Our experts can help you with probate valuation of property in London, Bromley and other areas.
Our experts will assess all of your items, fully catalogue the contents of all your household items, record their value in a clear way and then send a report to you in 72 hours.
We Assess All Types of Items
Our professionals have experience in assessing different types of valuables including antiques, artworks, coins, rare books, furniture, stamps, watches as well as jewellery. Also, we can provide a value for gems, stones and precious metals.
Probate Valuation Process in Bromley
The process of valuation consists of the three stages. Let's go through each step of probate valuation.
The valuation is done and all of your house contents for probate are assessed.
The report is created. It will contain the detailed information on contents inside a property.
A full catalogue of house contents is created.
How Do Our Valuation In Bromley Works?
First of all, you need to contact us for probate evaluation and book an appointment with a chartered surveyor ( RICs qualified and registered ). Our expert will arrive to you in time and do his/her work.
We'll asset your valuables accurately. We don't keep our customers for a long time. Traditionally, we provide our customers with a report within 72 hours.
The next question is – how long does probate take? Actually, the probate depends on a variety of factors and takes 9 – 12 months.  After probate is granted, you'll get the right to use the possessions.
How Much Does Probate Valuation Service in Bromley Cost?
We work differently and have an individual approach to each customer. It's worth noting that the cost of valuation largely depends on the size of work. You should contact us in order to get the price of valuation service. Get in touch with us today to discuss your valuation needs!