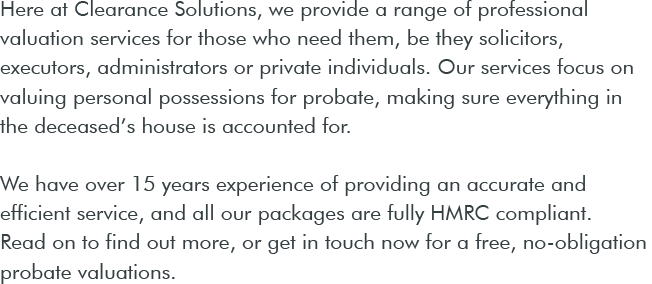 Call now to see how we can help
0207 706 7554
Why Do You Need Probate Valuation Service?
Probate valuation in Streatham is a legal procedure that's required by HM Revenue and Customs (also known as HMRC). The valuation of this type is required to inherit a property after a person's death. The procedure involves estimating the value of the property that belonged to the deceased person.
It's important to mention that the final figure has to reflect the real market value of the property at the time when a person died. Keep in mind that if you act as a personal representative or the executor for the estate, calculating the property value is the first thing that you should do.
Probate valuations play an important role in the probate process. Probate valuation in Streatham needs to be done for inheritance tax purposes. An heir has to go through this procedure to be able to understand whether you will have to pay Inheritance Tax or not. According to the inheritance tax act 1984, an heir may also be a subject to the capital gains tax. Chartered surveyors have knowledge as well as experience to provide valuation services in Streatham, Surbiton, Hammersmith and other areas. RICS qualified experts do probate valuation in Streatham to estimate the value of a property and household items such as antiques, furniture, jewellery, etc. The value of chattels and vehicles is estimated during probate valuations as well.
What Makes the Process of Probate Property Valuation So Important?
Without a doubt, it is absolutely devastating when a family member dies. And of course, it's very hard for relatives to cope with the loss. Plus, the death of a loved one may cause financial difficulties as well. It usually happens due to the constantly rising property prices in such areas as Streatham and Kensington. That's why it is extremely important to get the property in Streatham valued for probate accurately. Otherwise, you can be left with a huge tax bill.
It's very important to have the probate property valued accurately and in compliance with HM Revenue and Customs rules and regulations. If the value of the property that belonged to your deceased relative is too high, Inheritance Tax will be higher than you have to pay. But if probate property value is very low, on the other hand, it can be suspicious and cause you lots of trouble.
The estate's value usually consists of property value and financial assets. But some people forget that the house contents can change the whole situation. Probate valuation specialists in Streatham will determine the value of a property as well as the value of house contents to help an heir get the accurate number.
How Do Expert Evaluators Work?
If you need to get property valuation for probate purposes, consider the standard package offered by a probate services company in Streatham. You can contact probate valuation specialists and one of house contents valuers will be dispatched to your location. Professionals do all the necessary assessments and provide customers with valuation reports within 72 hours after his visit. But if you have extremely valuable items inside the house in Streatham, you can think about choosing our specialist services probate package. You have an excellent opportunity to obtain a quick and accurate valuation of such items as:
Works of fine art
Jewellery
Rare books
Coins
Stamps
Executor specialists in Streatham are always looking forward to assisting you with any of your probate valuation needs.