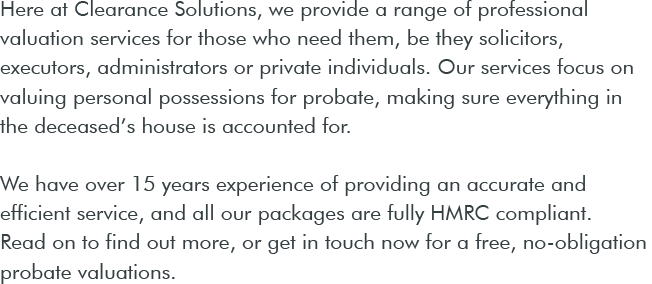 Call now to see how we can help
0207 706 7554
Applying for probate in Kensington
Applying for probate requires you to value properties belonging to a deceased person. In Kensington, residents are curious to know about what probate valuation of property entails. And since they aren't familiar with the process, there's a lot to know about it. Probate valuation in Kensington has to do with some processes that future property owners need to understand.
You need to know why home valuations for probate in London are needed so that you earn property entitlement. First, the meaning of probate valuation needs to be considered.
What is Probate Valuation?
Probate valuation is defined as valuing the estate of a person after their death and inheriting the assets. The executor of a property has the right to inherit the person's estate that includes items like jewellery, antiques, chattels, fine art, household items, furniture, and others).
Before applying for probate, you need to ensure that these items have been valued. It must be authentic and based on the market value of each asset. Valuation follows a process that you must also consider before starting.
The Probate Process in Kensington
To be granted probate, some steps need to be followed so that the process can be smooth. Here are the steps to follow:
Contact the organisations in charge of your relative's assets. These organisations include the banks and utility companies. Let them know about your intentions to inherit the estate.
Consult RICS qualified chartered surveyors so that they can estimate the value of assets.
Once the probate is complete, HMRC Revenue and Customs (HMRC) receive the valuation reports.
HMRC provides information about the tax amount that you need to pay.
Legally, you're required to have the calculation of the assets according to the inheritance tax liability. An accurate valuation report is needed so that you won't have to pay a tax that's above or below the exact amount. You'll lose money if you pay higher, and might be a crime suspect if you pay lower.
Valuation Services in Kensington
To get a valuation for probate in Kensington, Twickenham or Finchley, you have to consult experts who know about the inheritance tax act 1984. That way, you'll get an accurate capital gains tax.
Clearance Solutions has experts who value assets for probates. Being in the probate valuation business for 15 years, we offer a professional valuation of your loved one's assets. Also, having knowledge about the requirements gives you the chance of receiving a valuation report after 3 days of your visit. Expect the precise value of your assets using probate services.