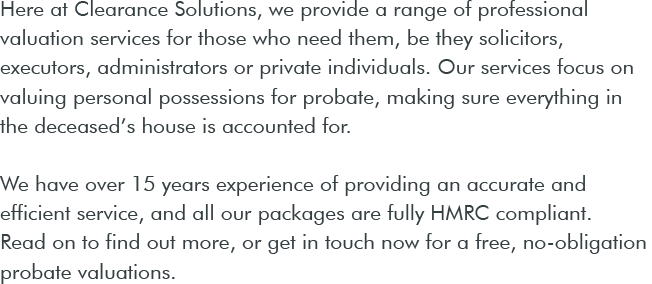 Call now to see how we can help
0207 706 7554
Applying for probate requires valuing properties, money and other types of assets of the person, who has passed away. People, who are new to probate valuation in Ealing, traditionally have lots of questions about this process.
At Clearance Solutions, we specialise in valuing different types of assets for probates. We have been providing probate valuation services in the Ealing area for more than 15 years and know what we do very well.
Traditionally, people want to know what probate valuation is and why it's needed. Today, we'll walk you through the most common questions people tend to ask us and give you the answers to them.
What is Probate Valuation?
When somebody dies, his/her relatives have the right to inherit his/her assets including properties, items in a property, chattels, bank accounts, stocks and shares, jewellery items, precision metals (such as gold, silver and platinum) household items, furniture, art and antique, collections of valuables (such as cars, coins, stamps, rare books and watches) and valuable stones (diamonds, pearls and other gems).
In order you apply for probate you have to obtain the valuation of possessions for probate. Valuations has to be realistic and it needs to be based on the current market prices.
When a property is valued its current condition, repairs that need to be done as well as development opportunities have to be taken into consideration.
The next question is – how much time is needed to get Probate Valuation Ealing W5, W13? You must be prepared that the valuation of assets for probate is a time-consuming process and it may take 9 – 12 months.
The Probate Process in Ealing
What needs to be done to value the estate of the deceased person? You need to take the following three main steps to obtain probate valuations:
First of all, you need to contact utility providers, banks and other organisations and notify them about your plants to inherit the person's estate.
At the next stage, the value of assets is estimated such as by Chartered surveyors ( RICS qualified and Registered ).
Once probate is complete, the value is reported to HM Revenue and Customs (HMRC).
Once submitted, the HMRC will tell you the amount of inheritance tax that you have to pay.
The legal process requires calculating the value of properties as well as possessions for inheritance tax purposes. It's incredibly important for you to get an accurate report.
Your loved one's assets shouldn't be valued too low or too high. In this case, you will not be suspected for a fraud and, most importantly, be able to avoid paying more than it's needed.
Probate Valuation Ealing Services in W13 and W5
Obtaining valuation for probate in Ealing can be hard particularly if you don't have experience in dealing with inheriting someone's assets and you are not familiar with inheritance tax act 1984. In this case, it would be better to get professional assistance and trust all of the tasks involved in the probate valuation to real experts.
Hire a professional to get valuation of estate for probate done in the best possible way! We can help you determine the right monetary value of your items. For standard package our price starts from £295+ VAT. Our highly experienced and qualified valuer will get in touch with you quickly, arrive to you in time and do house content valuation for probate correctly. We'll send a report to you within 72 hours after visit.