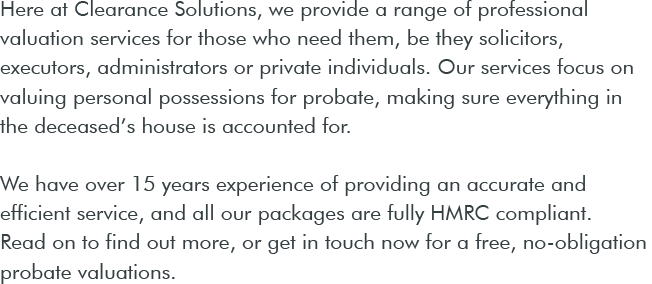 Call now to see how we can help
0207 706 7554
We Can Assist You With Probate Valuations
Residents in Westminster employ valuation services by the time they need to possess the assets of a deceased loved one for probate. A probate valuation in Westminster is necessary for the HMRC inheritance tax purposes after a relative's death.
Valuation specialists will provide accurate valuations for probate. This also includes assistance with probate valuation of property in London, Westminster and surrounding areas.
After assessing your household items, expert evaluators will record their market value. It's the value that the inheritance tax system needs to grant you the probate. A reliable probate service will give you the opportunity to acquire the privilege to own the property.
We Assess All Items
Expert evaluators aren't restricted to a particular type of item—assessment is possible with furniture, fine art, vehicles, antiques, chattels, and many more. Also, there's an available valuation of priceless jewellery, expensive metals, precious stones, and gems.
Probate Valuation in Westminster
Probate valuation for probate purposes is controlled by three main stages, and these are:
Experts value and assess the items.
The specialists create valuation reports that contain details of the estate's contents.
Creation of a register for the house contents. HMRC sends information about the amount of tax that you're going to pay.
The inheritance tax act 1984 holds that the valuation of the property must be accurate enough before probate is granted. If otherwise, the tax payment will either be higher or lower. If you pay a higher amount than the required tax, you may be cheating yourself. Likewise, if you pay lower, you may be a suspect by law authorities.
How does our Valuation in Westminster Work?
Contact us for professional valuation so that you don't make mistakes with the probate process. First, you'll have to book an appointment with our RICs qualified chartered surveyors (also certified). They'll arrive in good time to begin the procedure for you.
You'll get an accurate valuation that takes a satisfactory time to finish up with. After 72 hours of your visit, your valuation report will be ready.
If you're wondering how long probate takes. It depends on certain factors based on the estate of the departed—between 9 and 12 months. You'll get full authorisation of the property after probate is granted.
After the probate is granted, you'll get full authorisation to use the properties and may need house clearance services which we also offer.
How much does Valuation Cost in Westminster?
The cost of valuing properties depends on the work size. It also depends on the kinds of properties that experts will evaluate. Contact us for an estimate of valuation service.