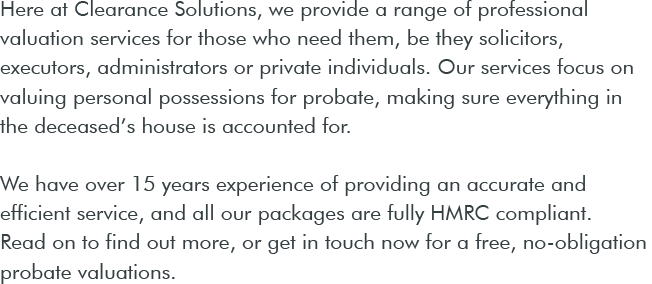 Call now to see how we can help
0207 706 7554
What is probate valuation?
Probate is referred to as the privilege a person receives to be the new owner of an estate. This estate belonged to a person before death, and now, the new owner needs to apply for probate. Before probate is granted in Uxbridge, valuation needs to be done on the deceased's properties. These properties include jewellery, fine art, chattels, vehicle, furniture, and antiques. Probate valuation in Uxbridge involves valuing the estate correctly.
Once the estate is valued correctly, the capital gains tax and valuation reports sent to HMRC will be determined appropriately. In situations whereby the estate is small, there's no tax. At Clearance Solutions, you'll get a professional valuation that fulfils the probate process. With that, you'll acquire an accurate valuation of the household items with a total cost that would be included in the value of the other items. During the probate process, you'll know whether an item is subject to any tax or not.
The importance of probate valuation in Uxbridge
You know how important the estate was to your loved one before departing, so you should know how important house contents valuation is. Probate valuation in Uxbridge is important for the estate executors, and here are the reasons to value the properties:
When the estate is valued correctly, it fulfils the inheritance tax act 1984. That way, you're obeying the rules.
You'll be able to know if the estate requires a tax or not.
With a correct valuation, you'll pay the right amount. You won't overpay or underpay, lest being suspected of fraud.
Valuing an estate implies consulting professional assistance. The probate process is for inheritance tax purposes, and that's why you should get the accurate figures so that you won't be a fugitive of the law.
We Assist you with Probate Valuations
As much as you want to get expert assistance with the probate, you need to go through some measures first. The first place you need to go to is a bank or utility company. Visit the organisations that your departed kept some assets like money and investments. Let them know about your intentions to acquire the estate. After that, contact the probate valuation team to assess the market value of all the items.
At Clearance Solutions, we offer valuation services that provide an accurate value for the properties. Using probate services allows you to get a valuation report within 72 hours. Also, we offer property clearance services for when you need house clearing.
Get your free quote today in Uxbridge from our chartered surveyors (RICs qualified and certified).