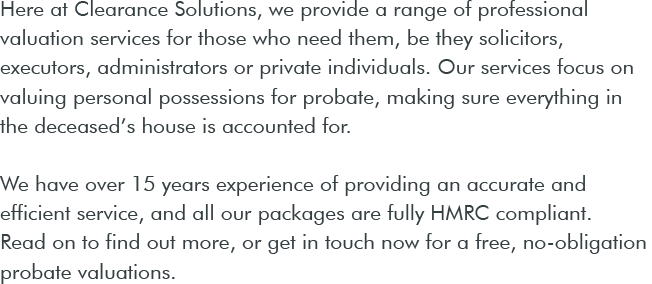 Call now to see how we can help
0207 706 7554
What Does the Valuation for Probate Mean?
When a person dies, relatives have the right to inherit his/her property. After the death of a person, an heir has the right to see his/her affairs. Then, estate is distributed according to the will of the deceased person. Probate valuation in Purley, Aldgate and other areas is done to estimate the value of your loved one's estate.
Probate valuations in Purley are performed for HMRC inheritance tax purposes. Valuation services are provided by RICS qualified surveyors. According to the inheritance tax act 1984, if the total market value of assets is more than £325,000 then an heir has to pay the inheritance tax. During probate valuation in Purley, household items, as well as chattels, are valued and their market value is determined.
What is the Main Purpose of Property Valuation for Probate?
Prices for homes and other types of properties in Purley and surrounding areas such as Sutton and Surbiton constantly go up. If the value of your loved one's property will increase significantly, you may be a subject of the capital gains tax. That's why relatives may be required to pay a lot of money in taxes after inheriting the assets of their loved one.
Taxpayers don't have to pay more than they need to pay. On the other hand, they don't have to be suspected of fraud. The assets don't have to be valued either too low or too high. Accurate valuation has to be done by chartered surveyors to calculate the correct amount.
The main purpose of professional valuation in Purley is to determine the total value of your loved one's estate. The total value consists of the value of a property, financial assets and house contents such as jewellery, furniture, etc. Finally, people who use valuation for probate services get valuation reports. After probate is granted, the estate of the deceased person is administered according to the will.
Valuation Process for Probate
Property content valuations for probate have to be done by a highly experienced executor. He/she has to visit a property of your loved one first. During a visit, an executor has to value a house and its contents for probate. After that, a valuer has to make all the necessary calculations and provide a client with a report.
Valuations for probate in the Purley area are done by valuation services probate companies. Customers are usually recommended a standard valuation for probate services to get their house and its contents valued.
Specialist Probate Valuation Service Package
Sometimes, the residents of the Purley area need to value antiques, fine art pieces, vehicles, stocks, shares or different types of valuable collections including coins, medals, rare books, stamps, etc. In situations like this, specialists house contents probate valuations are worth considering. If a specialist package in Purley is ordered, valuation is done by an expert in a particular field.