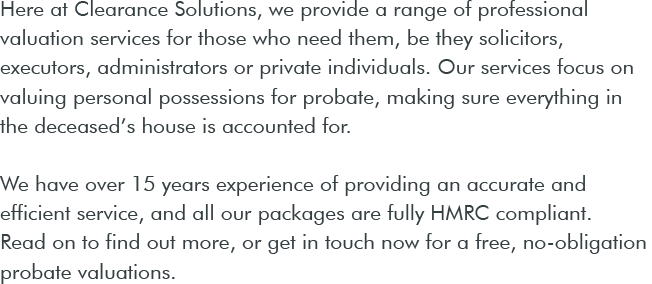 Call now to see how we can help
0207 706 7554
The process of a probate property valuation
Death of a family member is always a big loss. If a deceased relative leaves property to you, you will have to estimate the accurate value of that property even if you are not planning to sell it. This process is known to be a probate property valuation.
The process of probate valuation in Temple includes determining the value of all assets that belonged to the deceased person. That means that you will have to calculate the value of savings, pensions, bank accounts, the house and household items such as furniture, fine art, antiques, jewellery, vehicles as well as stock, shares or any other assets.
Now, let's take a closer look at the process of valuing a house for probate. When doing probate valuation in Temple you have to look for property valuation services. A RICS qualified professional will do the accurate valuation and estimate value of the property and other assets.
Probate valuations in Temple have to be done for inheritance tax purposes in compliance with the Inheritance Tax Act 1984, Section 160. An heir may be also required to pay capital gains tax. Chartered surveyors know very well how to do probate valuations in Temple and create valuation reports that will be accepted by HMRC.
Why valuation for probate is necessary?
When you inherit someone's estate, you have to pay the inheritance tax. In some cases, the tax is not required. If the total value of the inherited property is above £325,000, the tax is unavoidable. But if the value is lower than £325,000, no tax is needed.
Getting the property valued in the right way is extremely important. If HM Revenue and Customs suspect that your valuation report is incorrect, you may be in trouble. They have the right to impose penalties or even charge you with fraud. So, you should be interested in making an accurate and fully detailed probate valuation report.
How do property valuers work?
If you need to get the house and its contents valued for probate process within a short period of time, contact a reliable valuation probate services company in Temple and other areas such as Waddon and Greenford. The expert will visit your property in Temple and make a correct report reflecting the market value of the house and its contents.
If you have a collection of rare books, stamps, jewellery or other valuable items, you should find a professional who specialises in a particular field. An expert will be able to do professional valuation after the death of your loved one in Temple. Jewellery market is constantly changing. The same can be said about probate valuations of chattels, watches, coins, medals, etc. Leave this important task to real valuation services probate experts!