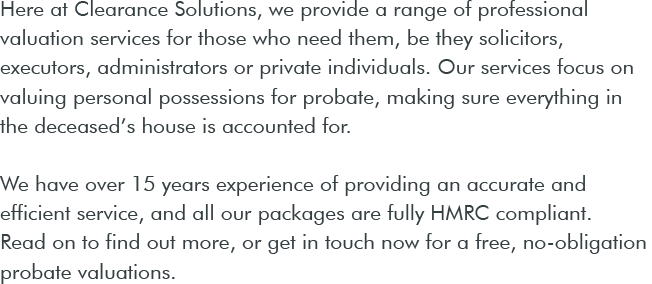 Call now to see how we can help
0207 706 7554
We Can Assist You With Probate Valuations
Residents in Richmond use valuation services after a relative's death. This happens when they need to acquire the personal possessions of the deceased for probate. Probate valuation in Richmond is required for HMRC inheritance tax purposes.
Clearance Solutions has a professional team that provides accurate valuation for probate. Expert evaluators will help with probate valuations in London, Richmond and surrounding areas.
Specialists assess your household items and record their market value. It's needed for a smooth probate process that gives you rights to ownership of property.
We Assess All Items
Probate valuations experts assess all kinds of items like fine art, antiques, chattels, furniture, vehicles and others. You'll also receive the value of expensive jewellery, stones, and precious metals.
Process of Probate Valuation
The stages involving the probate process are important for your capital gains tax and inheritance. Here are the stages:
Expert evaluators will assess your household items.
The professional valuation officials create valuation reports including the estate details.
HMRC provides information about the amount of tax you need to pay.
The inheritance tax act 1984 demands an accurate valuation. If you don't get the correct report, you may pay a tax that won't be beneficial to you. An incorrect report will make your payment lower or higher. A lower payment allows you to be a suspect of tax evasion. Likewise, a higher payment extracts so much money from you.
How does our Valuation in Richmond Work?
Contact us for evaluation of property by booking an appointment with our RICs qualified chartered surveyors. They'll attend to you based on the meeting arrangement.
You'll get a correct valuation within a satisfactory period. After 3 days of visit, your valuation reports will be ready with all the information that you need.
Richmond residents may wonder— how long does probate take? The duration depends on several factors. It takes as long as 9 – 12 months for probate to be granted. Once you receive the probate, you'll get full rights of ownership.
When you sell the estate for a higher amount, you also have the rights to a capital gains tax. While you're at it, you may need property clearance services which we can help with. Contact us for these services.
How much does Valuation Cost in Richmond?
Probate services depend on so many factors. Your property is different from that of another person. The amount will be estimated based on the size. For the cost of valuation service, contact us to provide the information.