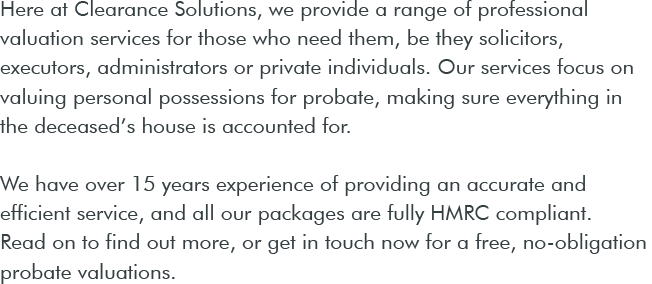 Call now to see how we can help
0207 706 7554
What is probate valuation?
Probate refers to the legal right to administer the will or estate of the deceased. Once a person dies, it is essential to value their property, money, and possessions as part of the probate process. This is what is known as probate valuation.
Correctly valuing the house contents (chattels and goods ) is important because it determines the inheritance tax and the value you report to the HMRC. In some cases where the estate was small, the estate doesn't get taxed.
When it comes to probate valuation in Chelsea, Clearance Solutions can help with the professional probate valuation. This involves accurately valuing house contents so as to come up with a correct figure that shall be included in the value of the rest of the property. It shall be important in determining whether the estate is subject to any tax.
The importance of probate
In line with the inheritance tax act 1984, getting an accurate probate valuation report compliant with the HM Revenue and customs requirements is essential in determining whether an estate is subject to any tax inheritance or not. By getting the correct value during probate valuation, you will be able to pay the right amount in terms of tax.
By valuing the estate at a higher value, you might end up paying more tax than you should. Undervaluing it isn't a great option either as you might be in question for tax evasion or fraud. At Clearance Solutions, our expert valuation can help you arrive at an accurate figure for your house contents to be combined with the rest of the estate's value. You can get a FREE quote or advice in UK and probate valuation in Chelsea from our chartered surveyor RICs qualified team.