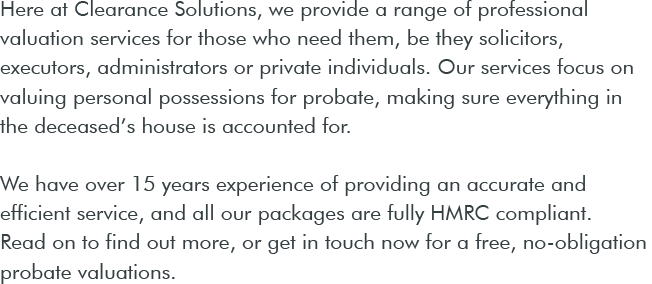 Call now to see how we can help
0207 706 7554
What is probate valuation?
Probate is the legal entitlement that a relative receives to own the estate of the deceased. Their possessions (jewellery, antiques, chattels, fine art, vehicles, furniture) need to be valued through the probate process after their death. Probate valuation in Balham requires valuing the property accurately. Accuracy is important because the value determines the inheritance tax and value you report to the HM Revenue and Customs (HMRC). However, when the estate is small, there's no tax on it.
Clearance Solutions helps with professional probate valuation of property. It involves valuing the house contents in order to generate the exact figure that will be included in the estate's value. It determines whether there's any tax on the estate. Executor specialists will assess your household items so that there can be an estimate of the market value.
The Probate Process in Balham
If you're wondering what the process for probate valuations is, there are some steps to follow. These steps are important for successful probate. They are:
Visit or contact utility companies, banks, and other firms, and inform them about your intention to inherit your relative's property. Ensure that the information you provide is correct for legal purposes.
Consult RICs qualified Chartered surveyors to assess the value of assets.
Once finished, HMRC is given the valuation reports.
HMRC sends you a document containing the inheritance tax that you have to pay.
The value of assets should be calculated due to the inheritance tax liability. It's a legal procedure, so you should get an accurate valuation report. Paying a lower amount makes you a crime suspect. Meanwhile, paying a higher amount reduces your personal income.
The Importance of Probate
Probate valuation in Balham is important in the following ways:
 It determines whether an estate is subject to tax or not. According to the inheritance tax act 1984, a correct report abides by the rules of HM Revenue and Customs.
When you get the precise report, you'll pay the right tax amount. That way, you won't be a suspect, and you won't pay too high.
Valuation Services in Balham
Obtaining a valuation for probate in Balham requires you to contact professionals who are experienced. When you get the correct reports, your capital gains tax will be correctly stated.
At Clearance Solutions, we offer valuation services for your loved one's estate. After your visit, we'll send you a report 72 hours after your visit. Using our services, expect a precise value of assets.
If you'll need house clearance services after a successful probate, they're available here. Contact us for advice or consultation, and our representative will attend to you.