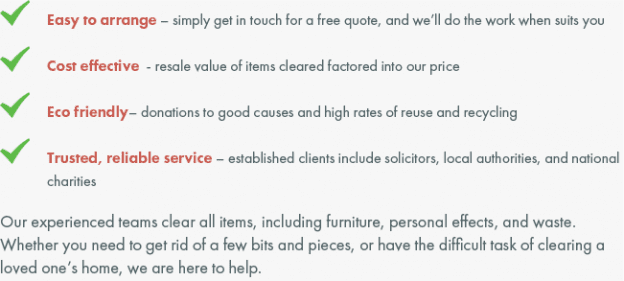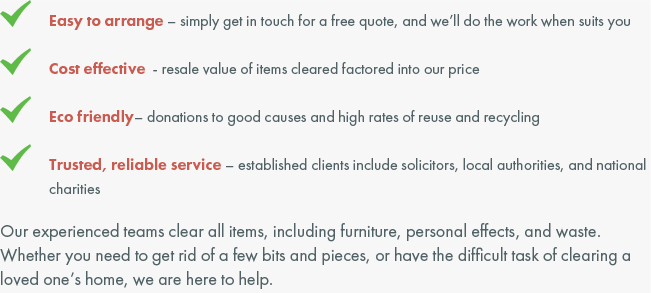 Call now to see how we can help
0207 706 7554
Hackney has undergone a radical transformation in the past few decades. The borough in north east London was once a mainstay in polls that listed the worst places in the country. But these days, it's one of the most popular areas for business, culture and socialising. For our team of clearance experts at Clearance Solutions, it's become a regular location for our house clearance specialists.
The sprawling area of Hackney covers the thriving scenes of Stoke Newington, Shoreditch and Clapton. While bustling with business such as Tech City, or the Silicon Roundabout as it has come to be known, Hackney also contains numerous conservation areas.
We understand the impact that clearances can have on an area, and that's why we strive to provide as many benefits as possible. With a strict approach to reusing, we can nearly always find a home for unwanted possessions. This means we keep waste out of the waste stream and that somebody else or a community can benefit from quality donations. It also means that we can reduce the cost of your clearance.
Our Hackney-based services offer a comprehensive range of options for those who require cleaning, clearing, relocation or removal services for their flat or house. We can perform seamless relocations whether it's a move from Dalston to Hackney Wick or another borough entirely.
With Clearance Solutions, you'll be provided with proof that we have performed an honest and and environmentally friendly office clearance. We complete environmental reports and provide detailed audit trails of items sold.
Even though Hackney may appear to be a relentless world of business and commerce, with Clearance Solutions, you can be sure you're always giving something back. Whether it's a charity community that benefits from your unwanted office furniture or keeping items out of the waste-stream, you're not only saving the environment, you're also saving time and money.