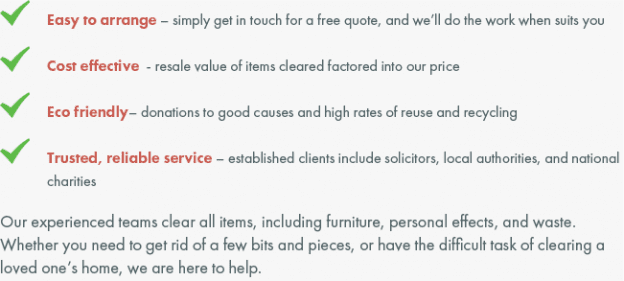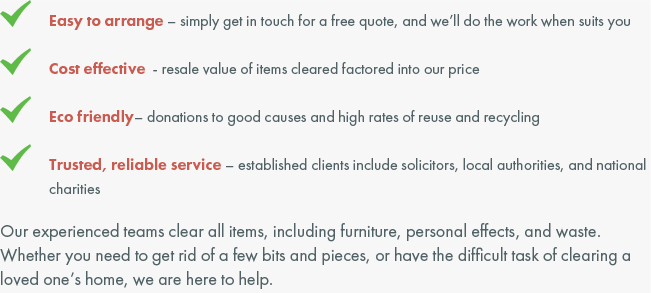 Call now to see how we can help
0207 706 7554
Clearance Solutions can handle any kind of house clearance operation in Enfield. With its growing size and popularity, we're certain there'll be plenty of need for our unrivalled clearance services.
The Enfield area in North London has seen major developments in recent years. There is now much more accommodation, particularly apartment blocks. While the creation of more living space is always a good sign for an area, moving either from, or to an apartment, can be an arduous process.
At Clearance Solutions, we have years of experience conducting clearances involving delicate objects both large and small in a variety of tight spaces. We know that residential property in Ealing can throw obstacles in the way of relocating. Access difficulties, narrow stairwells and parking restrictions are common issues that we can deal with effortlessly.
More than a clearance in Enfield
Our specialist services include comprehensive house clearances and more. Whether you need items delivered to family or friends from Edmonton Green to Southgate, cars removed, or require your Enfield Town garden to be tidied, you can rely on Clearance Solutions.
We pride ourselves on taking the most efficient and eco-friendly approach to any project. Not only does this result in a cost-effective clearance for you, but it also has positive environmental and social effects.
If we encounter objects that you no longer want, we can donate them to our network of contacts and reduce the cost of your clearance. Your old coffee table might find its way into a community that needs such donations to function.