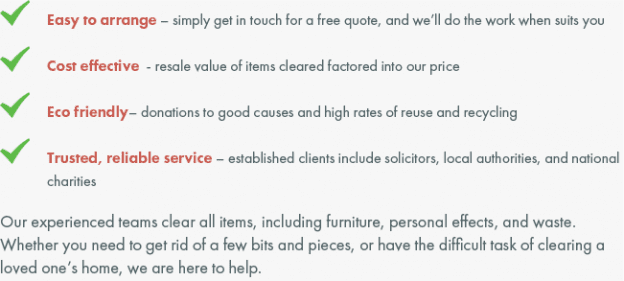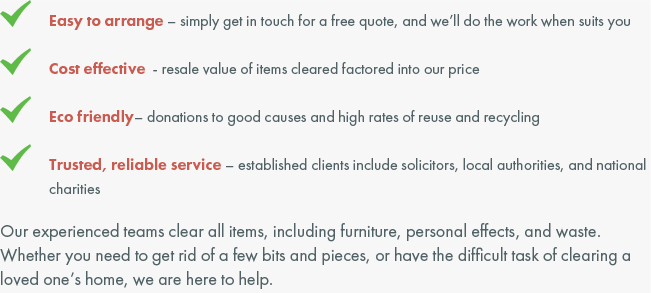 Call now to see how we can help
0207 706 7554
Ealing is an area of West London that Clearance Solutions are very familiar with. Affectionately known as "the Queen of suburbs", our house clearance specialists have frequently helped to preserve that title.
We negate any possible motive for fly tipping in the beautiful Ealing area (why dump your possessions when we can reduce your clearance cost by selling it?), we clean and clear accommodation of all types and follow the most effective reuse and recycling protocols.
Yes, our comprehensive house clearance services have seen us operating throughout Ealing. We've cleaned, dressed and tidied houses for sale in Hanwell and performed relocations from Park Royal to Brentford.
Our approach to house clearance prioritises efficiency and customer satisfaction but we also ensure that our services are as eco-friendly as possible.
Ealing is chasing a 50% recycling rate by 2020 and offers bulky waste collection services. At Clearance Solutions our equivalent services benefit both the environment and our client's bank accounts.
Reuse and recycling in Ealing
We are very proud of our negative carbon footprint, an achievement gained through improving our clearance practices.
We will remove unwanted items from your flat in Ealing, but regardless of their size, we always try to find a way to reuse them. Whether we donate your old sofa to a charity or provide our network of contacts with your unwanted game console accessories, we will reduce the cost of your clearance.
Where we cannot reuse, we recycle as a last resort. However, you can rest assured that we are still doing our best to prevent unnecessary harm to the environment. We organise remaining waste into collections for unique waste streams, thus ensuring the best rate of recycling.