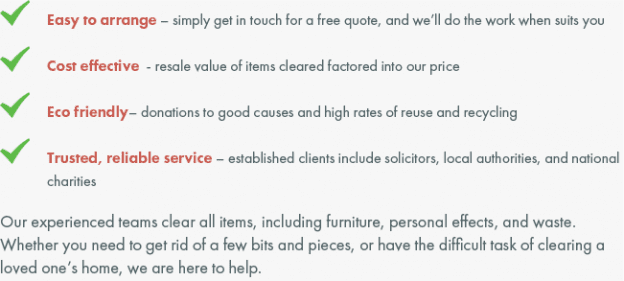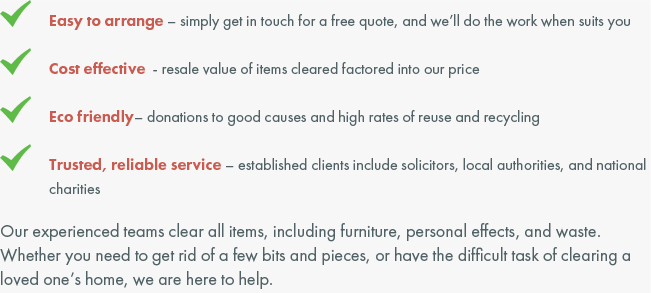 Call now to see how we can help
0207 706 7554
Our comprehensive house clearances cover the entire Barnet area.
It's one of the largest areas of London and has a sizeable population to match. With Barnet being such a densely populated area with inhabitants coming and going, we have been performing relocations, removals and clearances there on a very regular basis.
Yes, we've had the pleasure of witnessing the landmarks of Barnet, such as the two two Grade I Listed buildings: the Church of St. Jude and the Free Church. However, we find ourselves with little time to take in the surroundings as Barnet keeps us so occupied. We have relocated entire families from Edgware to East Finchley and conducted consecutive clearances in Golders Green and Church End.
Eco-friendly clearances in Barnet
Barnet prides itself on hosting a clean and green environment and high quality housing. With our expert team of clearance specialists at Clearance Solutions, you can preserve this pride.
Our approach to clearance is informed by our strong belief that clearances should have numerous benefits. Prioritising customer satisfaction as our primary focus, we also ensure that our clearances come with environmental and social benefits.
We have worked tirelessly to achieve a negative carbon footprint. One of the ways that we do this is through finding ways to reuse as much waste as possible. Even if you think some of your unwanted possessions are worthless, we're sure we can find people that want them. With us, you could find your old furniture has gone to a community or been repurposed for other uses.
Through this method, we keep items out of the waste stream and reduce the cost of your clearance.